Updated! CNU Transportation Summit and Workshop Nov. 16-18, 2006
October 6th, 2006
| | | |
| --- | --- | --- |
| | | Beautiful Colorado fall weather prevailed as Charlier Associates and the City of Boulder played hosts to the Congress for the New Urbanism (CNU) on November 16-18.  Highlights of the three-day event included: |

Context-Sensitive Solutions Workshop
Over seventy-five people from the Front Range and across the country attended a CNU training session on the new ITE proposed recommended practice for street design. Participations received a copy of a new manual entitled "
Context Sensitive Solutions in Designing Major Urban Thoroughfares for Walkable Communities
" and instruction on how this tool can benefit their cities and towns. Terri Musser of Charlier Associates presented a session on what the CSS manual means for walkability.


CNU Transportation Summit
Over 150 members of the national CNU Transportation Task Force convened Friday and Saturday at the Hotel Boulderado to discuss the future of transportation reform in America. Topics covered during the Friday sessions included:
Street and place design to bring back the scale of the block, street and building.
Converting big streets into multi-way boulevards.
Good transportation modeling practice at the regional, corridor and project levels.
Freeway teardowns and road diets to add value to communities.

On Saturday, the members broke into small work groups to decide the next major initiatives for the CNU Project for Transportation Reform. Look for progress on these exciting fronts over the next few years:
Implementation of the CNU/ITE manual.
Moving transportation discussions beyond corridor design to network solutions.
Making networks of skinny local streets an acceptable design solution for emergency responders.
Reflecting community goals and urban design characteristics in the way transportation models are used to influence roadway design.
Summit Tours
On Friday, staff of Charlier Associates Inc. coordinated a 1.5-hour walking tour of Downtown Boulder. Assisted by City of Boulder staff, we gave CNU participants a unique perspective of downtown that included the Pearl Street Pedestrian Mall, mixed-use infill projects, parking management strategies, the Community Transit Network, and downtown bicycle accommodations including the 13th Street contra-flow lane and Boulder Creek Trail.
On Saturday, Summit participants toured the redeveloping 30th Street corridor and future Boulder Transit Village site, immediately followed with a hands-on workshop for retrofitting 30th Street. Possible solution for this corridor presented as a result of small workgroups included increasing network connectivity to take east/west travel pressure off of north/south roadways and then putting 30th Street on a road diet to turn it into a boulevard with landscaped median, wider bicycle lanes, on-street parking, and enhanced pedestrian street crossings and walkways.
Saturday evening, the Summit concluded with an insider's tour of Prospect New Town in Longmont. CNU members were provided opportunity to see and hear how their daily work positively impacts the live of residents in New Urban projects as they socialized with Prospect residents during a traveling wine and cheese party throughout neighborhood homes and businesses.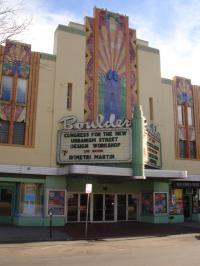 The Boulder Theater welcomed the Congress for the New Urbanism to town in style.
Marni Ratzel, City of Boulder Bicycle & Pedestrian Coordinator, leads one of three Downtown walking tour groups.
John Wolff explains the history of the mixed-use development at 8th & Pearl.
Touring the Boulder Creek Trail and its connections to Downtown.
Only a tour for transportation planners includes rooftop views from a parking garage!
Pool tournaments and lively conversation at a Friday evening reception at The Foundry.
Touring compliments of Boulder's Community Transit Network.
CNU members assessed the 30th Street corridor and potential connections to the Goose Creek Trail.
Small group work demonstrates how innovative ideas can be brought together to influence the future of Boulder's 30th Street corridor.