Complete Streets/ Pedestrian Environments
The most basic mode of transportation is walking. Yet most of our communities are struggling with how to make walking safe in our daily travel. CAI is a leader in the field of pedestrian science and complete streets, and has helped numerous communities design streets that enable safe access for all users (pedestrians, bicyclists, motorists and transit riders of all abilities) including tools to make communities great places to walk, stroll, linger, or ramble.

Kaneohe Ranch Company, Hawaii – Downtown Kailua Plan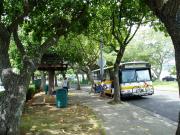 The plan addresses access to all modes of transportation.
CAI completed work on a pedestrian plan for downtown Kailua, Hawaii. Kailua is located on the windward coast of Oahu, over the Pali from Honolulu. Town residents indicated in a recent survey that they want their downtown to be "walkable". CAI worked with Kaneohe Ranch, a unique land owner who owns most of downtown Kailua, and coordinated with Group 70 architects. CAI facilitated a public workshop as part of this project with 150 participants who discussed the future of downtown Kailua.
more…
Additional Pedestrian Planning Projects
more…